Careers Guidance and Advice
All Year 11 and 13 students are entitled to a Careers Guidance meeting; these will arranged during the school day, a form group at a time. If a student requires their Careers meeting to be prioritised, please contact hhill@themisbourne.co.uk. The school outsources the Careers Guidance meetings so that students receive impartial advice from a level 7 trained Careers professional. In addition to this, the Careers Hub have funded additional Careers guidance for Year 11 - 13 students and families. See below for contact details: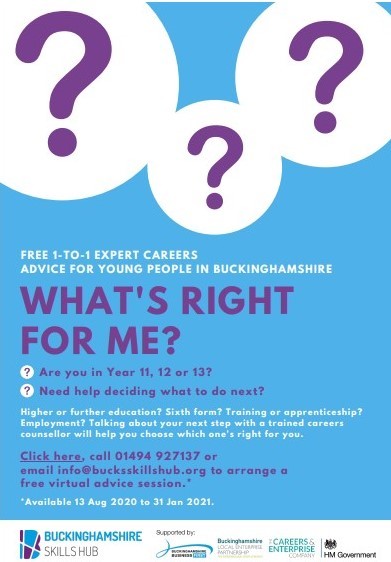 At The Misbourne, we are keen to encourage our students to research the careers and opportunities that are available to them so that they can set themselves targets to strive towards.
Careers Resources:
There are many resources available that provide information, but we have signposted a few websites below that are a good place to start:
· A free, online careers platform, designed to connect 11-18 year olds with their future career potential:Start
· Careers advice and info on a wide range of jobs, training course resources and funding: National Careers Service
· Careers information and tools for 11-19 year olds: Career Pilot
· Instructions - How to get started with START, NCS & Careers Pilot
· Success At School Helping your child begin their Career Journey 2020
· Thousands of career videos of people from hundreds of careers: I Could.com
· National careers film library and The Skills Explorer: Careers Box
· Information about apprenticeships opportunities: Apprenticeships.org and Amazing Apprenticeships
· Help finding apprenticeships, college courses or work experience to start building your future: Not Going To Uni
· Explore careers, gain work experience and find opportunities in Buckinghamshire: Wannabe Bucks
· Information about the job market for students and school leavers. All About Careers
· Advice about work experience, internship opportunities and graduate careers: Prospects
· A range of student services such as CV advice, interview advice, information on apprenticeships: Career Advice
· Educational and careers resources: Getting In
· Whether you're deciding what to study, taking your exams, planning a career, or just curious, BBC Bitesize is there to explain the world of work, with advice from people who've found the right path for them: BBC Bitesize
· One way to make your personal statement / CV stand out is to show that you have studied around your subjects, for instance by taking a free online course. Choose from hundreds of free online courses from top universities and specialist organisations. Browse by subject or start date, to find the right course for you: Future Learn
· Future TalentEd - Careers magazine
· Careers Mag - Careers magazine for partents
· To view a number of other helpful websites visit: Adviza
Paid for advice and guidance
If you're not sure what career or study options you are suited to a Morrisby Online assessment may be able to help. To find out more visit the Adviza website
Isolation Inspiration - research activities to complete whilst at home:
Isolation Inspiration 1 - time to think about your future and set exciting goals to aim for
Isolation Inspriation 2 - understand 'the job market' and discover what's on your doorstep in Buckinghamshire…
Isolation Inspiration 3 - our Enterprise advisors sharing their experiences
Click on the short video clips to see what advice our Enterprise Advisers would have given their 16 year old self and the skills they have developed over lockdown